Ok! So I'm starting to talk myself into thinking that is a DIY project. I've got the patience and I'm very good at following directions... let's see if I'm nuts or not.
I'd like to repair seams like this: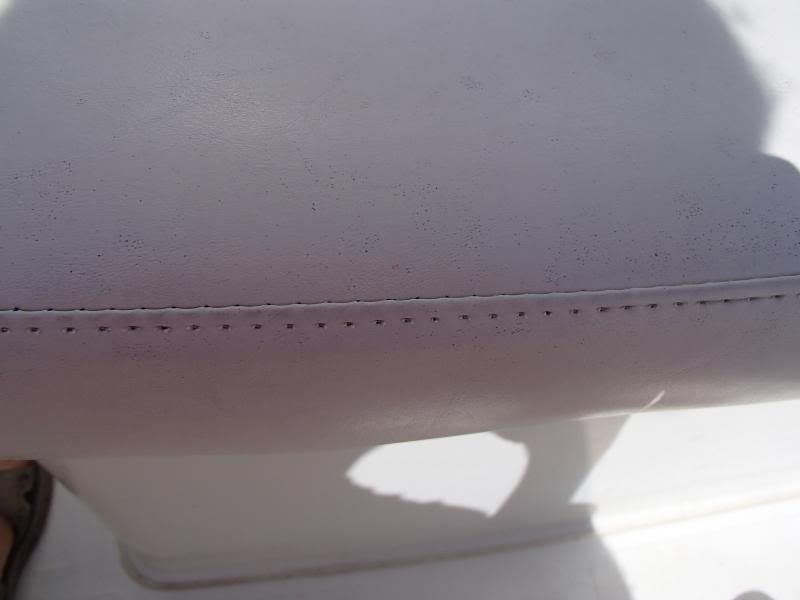 with Tenara thread (unless you tell me there is something even better for Salt Water, Marine, SE Florida application!).
First, is there *any* way to do it without removing the cushion? If not, that's perfectly fine (somebody on a different forum mentioned that they thought a Dr. Vinyl type place could do it without removing anything?? I don't know if I understood it right or not, but thought I'd put it out there.)
If I have to remove the cushions, that's fine... I've been lead to believe that this can be done by using two needles in opposite directions by hand (I know it'll be slow going... and I'm ok with that! -- I'll do one at at at time).
The first photo is the worse one and the only one that has "opened up" so far (I do believe that the others are close behind). :(
The original thread failed because I was a mental pygmy and used some harsh cleaners before I knew better. DOH!
The one picture that appears to show nothing is is just an illustration to see the size (and what I *THINK* are drains??)... The bolsters (cushions on the side of the boat) that are toward the rear of the boat lift up and off... I would think the ones at the bow (front) of the boat would come off the same, but I haven't had the guts to really tug upward... I'm wondering if they're somehow screwed on from the drain holes? I'm going to go look now at that...
Anyway... take a look and let me know your thoughts... I'm an existing Sailrite customer having bought a bunch of various things from you when I was installing some enclosures and a few other bits... I was very happy and would love to have at this as a DIY endeavor.
Thank you kindly for reading,
Pete :)